The tradition of exchanging rings goes deep into the past. It appeared at the dawn of civilization. Even then, the ring was worn on the ring finger, because it was believed that a special artery connects it to the heart. Although the doctors did not find the love artery, the ring on the ring finger can still tell if the heart is free.
It seems familiar to us that the wedding rings are gold. But this was not always the case; in ancient times, lovers could even put cane rings on each other's fingers. Over time, the rings began to be made from more durable materials. At first, rings made of iron and bronze were popular, and eventually, gold became a hit.

We have made a selection of examples of the most unconventional solutions for an engagement ring, and found a win-win way to breathe a spark of unusualness into the most classic and standard form.
1. A wooden ring
Wooden rings are suitable for those who value a conscious approach and natural materials. You do not need to worry about the quality of the material, because we use only specially processed wood. Look at this gorgeous oval smoky quartz that sits in the centre of a Daha Smoky Quartz Wood ring of black rhodium. The natural wood material of this pretty handcrafted ring has a special quality that is unique and captivating. Another one; "wooden gem" in German Kabirski is this Oval Citrine Wood ring, which forms a curve around in an undulating line that represents the continuum of life. At the heart of the piece is a brightly shimmering citrine that is fiery and alive with energy. It is trimmed with a delicate and stylish band of precious yellow gold.
2. A dark metal ring
If you are a fan of the most unusual things, you will definitely appreciate an eccentric ring made of black and yellow metal with a unique raw spinel in the heart. Natural form and shape are celebrated in this gorgeous Edeva Spinel ring. The dark precious metal twists around in a curved style. Crowning the top is a stunning rough spinel that captivates the soul with true enchantment. Its freeform curves are a true beauty. Another dark metal ring in the German Kabirski collection is the Alita White Sapphire ring A band of slim and curving black anthracite curves up and is crowned with a flat raw gemstone. It is ringed with a delicate line of gold and boasts a beautiful glimmer of radiant elegance.
3. An odd shape minimalistic ring
Lovers of minimalism will definitely appreciate the sophisticated minimalist rings of an unusual shape. Such a ring will become a memorable stylish jewelry, which will also look fashionable and emphasize your individuality. In the German Kabirski collection, we recommend you to take a look at Armande Garnet ring and Gilda Amethyst ring. In the Armande Garnet ring the cylinder of black rhodium loops around to caress the finger with delicate grace. The garnet nestled at the end offers crimson drama that hypnotizes all who see it. A line of cubic zirconia follows a pretty channel and complements the strong essence of the central jewel. The curving clean shape arches around the finger in the prettiest Gilda Amethyst ring. It is plated for extra shine and is dotted with two dainty cubic zirconia. A gorgeous purple amethyst is placed on one side that glistens and empowers the wearer.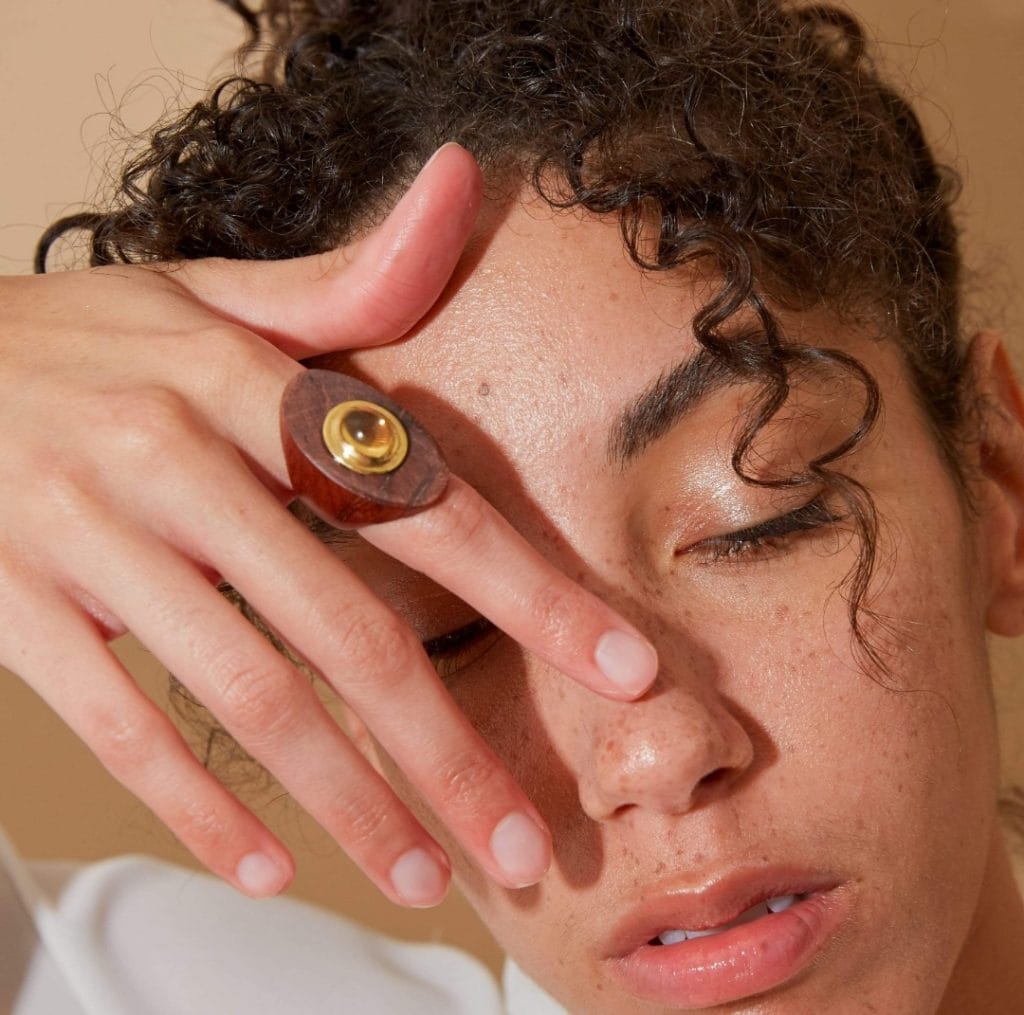 4. A ring with a secret lock
A ring with a secret that only two hearts know, is a great solution for an eccentric couple who love the most unusual solutions. Jewelry can be exciting and fun. This unique Valdis Black Diamond ring is designed for the more joyful and spirited wearer and combines dark brilliance with black diamond sparkle. Wear it closed to show off the crowning gemstone or flip it open for some merry amusement to see what is kept inside.
5. A ring with a unique gemstone
A natural stone that has not been processed and retains its authenticity can make a piece of jewelry absolutely unique and unforgettable. In the German Kabirski collection, you can find many similar rings, because the use of natural stones is the basis of the brand's DNA.

For instance, look at this wonderful glittering purple amethyst in the Oraia Amethyst ring. The beating heart of this ring in all its untamed glory. A line of black rhodium snakes around, creating the band and is dotted with pretty sparkling amethysts. Color and life combine in this impactful design. Another one example is Carraig Matrix Tourmaline ring. Encased just as it has been found, this matrix gem has wonderful variations of color. Nestled at the side of the white rhodium band, is a perfect cabochon tourmaline trimmed with a thin band of 18 carat gold.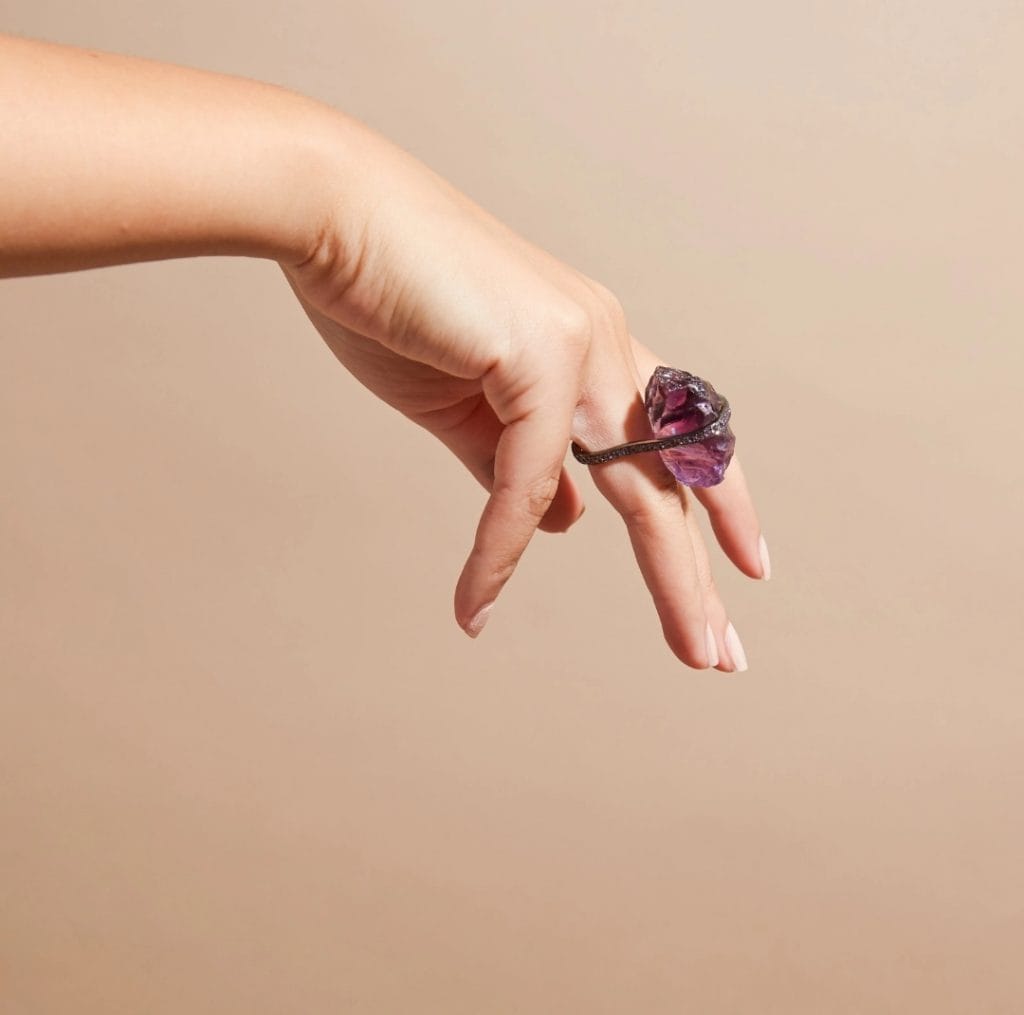 ---
SPONSORED CONTENT